Meijer Ad Thanksgiving Dinner Nov 24 products are shoppable with the official store of the retailer.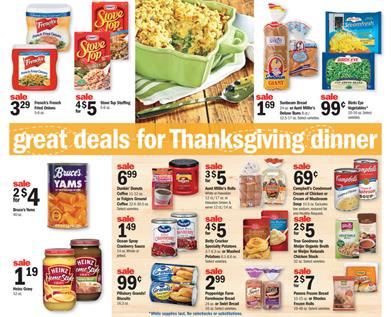 Thanksgiving offers of the retailer cover canned food, packaged products, and they got holiday food for every customer. Check out pg 8-9 for the special thanksgiving products. More than these bakery offers for celebration they are pretty good treats. You can consider adding some sides in your meal with the bakery products. Or have them as treats in Thanksgiving.
Check out the packaged food offers of the Meijer Online shop. All nutritious food products, cheese variety, extremely delicious range of Meijer might be considered as attractions.
If you need refill in household products you can find some in here. Pet food and stationery products are also included in this range. Some of the discounts may help you save a little more. $2 off baby food and toddler snacks are example to this deal. More than these beauty, cosmetics, skin care and personal care products are available in the featured ad. Tomorrow Meijer will be closed. For Thanksgiving and your guest stock up some essentials using this ad today. Don't miss out anything.