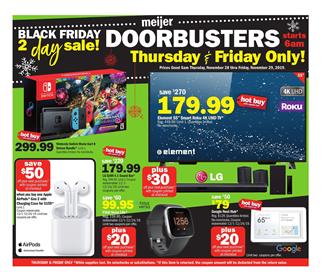 Another fine addition to the collection of Black Friday Ads today. Meijer Thanksgiving and Black Friday sales have been introduced in two new ads. One of them will be valid for one week (Nov 24 – 30). Browse Meijer weeklong BF Ad here. The best deals are available in the Meijer Black Friday Ad 2019. Browse Doorbuster deals on big-screen TVs like element 55″ smart Roku 4K TV. This two-day sale offers Airpods, game consoles, smartwatches, and rarely-on-sale products at lower prices. Nintendo Switch Mario Kart 8 deluxe bundle will cost $299.99. TVs of Vizio and Element are browsable on pg 2-3. Meijer Weekly Ad is regularly updated, too. Check out the posts about it for more deals in the future.
A fast, big enough, and durable 4K TV might change the entire atmosphere of your house. Samsung TVs are popular choices either during Black Friday sales or in people's regular shopping trips to the electronic stores. Samsung has 4 TVs on pg 4 of this ad and all of them are cheaper than regular prices. Save $750 on Samsung 75″ Smart 4K whose price will be $749.99 after the discount.
The new iPad is really fast and touching it is like touching valuable jewelry. It just keeps amazing you. Although I am not a huge fan of repetitive models of their smartphones, Apple's iPads are always some good material for me. I am a big movie watcher. TVs, Laptops, and Tablets are important to me. I recommend you to see those savings by the new ad on pg 5 where Airpods, iPads, and accessories are available.
Toys will cost half at Meijer stores during the Black Friday sale. Not only toys but also you can save half on board games. Barbie, Frozen, Nerf, furReal, bikes, and more toys or entertainment products for kids will cost half.
Check out Meijer Black Friday TV deals :
And more electronic deals:
Shop BOGO free deal on console games like Destiny, Battlefront II, For Honor, Red Dead Redemption, Just Cause 4, and more.