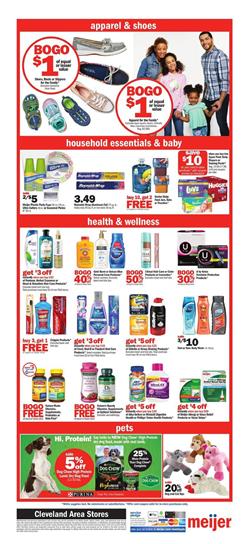 In summer, thick shoes will make you sweat a lot. Choose something flat for walking around in Spring and Summer. You don't need to pay much for these shoes at Meijer stores. Because Meijer Ad has a deal of BOGO $1 on summer shoes. Instead of shopping for expensive brands, use these deals to save. Meijer stores have enough of them at affordable costs. Meijer BOGO Shoe Sale Apr and more products:
In this Meijer Ad, you can find personal hygiene products, too. Clean your house but also keep your hands and skin sanitized all the time. Find products of personal care category, too. U by Kotex, L'Oreal Hair care, Dial or Tone Body Wash, and Nature Made products are available on the same page.
Browse the Meijer Weekly Ad for pet products, too. High protein dry dog food, dogs and cat toys, and more products are in this category. You will find lots of nice things. I was expecting a new Meijer Ad today. It's not available yet. These deals are valid until Sunday. There might be new ones on April 12, too.