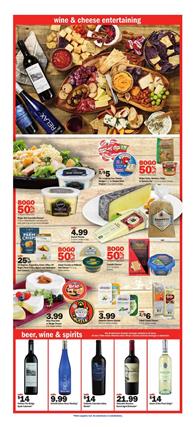 Buy some products at $1 only. BOGO $1 is currently valid at Meijer and products like Oscar Mayer Lunchables, natural plates or P3 plates, Athenos feta cheese, and more are only $1 when you buy the first for the regular price. Visit pg 8 for ore deals. Buy 5, Save $5 at Meijer. Over 1500 items are participating in the mix or match sale. Save on Kraft sinlges, Oscar Mayer meat Franks, Maxwell House coffee, and more like-class items on pg 8. Pizza is everyone's favorite food for any time of the day. Find frozen pizza, special prices, and more in the range of Meijer this week. McCornick street Taco seasoning mix will be a $.50 saving. Meijer cheese sale is one of the important parts of this ad.
The impact of Italian cuisine in the production and marketing of cheese all around the world is undeniable. Italian cheese products are beloved foods of most people all around the world. Parmesan, Mozzarella, and more cheese types are available on Meijer weekly ad.
More products are on sale :
Subscribe to the weekly ads with leaving your email and get free notifications about important deals of the week. Get more Meijer cheese deals in the future weekly ads.