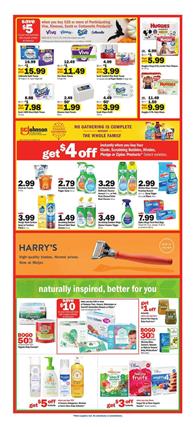 mPerks coupons to reduce the costs of household supplies like Viva paper towels and Huggies products are available on pg 10 of the Meijer Ad. You may a lot of work at home but more importantly, you gotta save some of these products. Chemicals and cleaning supplies can be so expensive. Use mPerks coupon to save $1 on Cottonelle bath tissue. When you buy $25 or more you can save $5. You can also save $4 off on brands like Ziploc, Windex, Glade, and more. Spray cleaners are far more practical on surfaces like your dining table. Ziploc mega pack food bags are $7.99 and more prices are viewable on pg 10. In the same part, find baby care products like Pampers, Happy Tot, and more. The daily life of a mother can be challenging. Don't let the expenses be an extra burden on your shoulders. Shop 10 for $10 sale in non-food categories of Meijer Ad. Meijer white cutlery, Neon straws, essential paper towels will be 10 for $10.
Household and cleaning products Meijer mPerks household coupons. Save $5 when you purchase $25:
Get $4 off wyb 4:
Baby Care products:
Subscribe to Meijer weekly ad to see more deals like Meijer mPerks coupons.