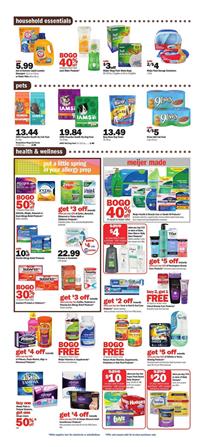 Browse Meijer pharmacy deals on pg 5 of the latest Meijer Ad. They have new coupons and savings on all of the products there. Allergy relievers, cough products, and supplements are featured in medicines or wellness products. BOGO free Nature Made vitamins, supplements, probiotics, or kids' first products. This is the part of Meijer Ad which offers non-food products mostly. Some personal care products are also one of the things to see. Buy feminine care products of always or Tampax BOGO 50% off starting on Sunday. Buy more products for cheaper prices at Meijer.
Meijer made products are also in this category. Health & beauty care items of the Meijer brand can be a good chance to save since they offer them BOGO 40% off in the ad. These are some of Meijer Pharmacy Deals May 3 – 9 :
Meijer Mother's Day Gifts
Two categories of Meijer are specifically about Mother's Day gift ideas. View flowers, rose bouquet, ceramic pot for plants, and more products on pg 6. Go for sundresses for Spring and Summer on the final page of the ad. Many more things are surely available in the ad.
Subscribe to the Meijer Weekly Ad for similar deals and receive them in your inbox.