Check out awesome specials and competitive prices with Meijer Summer Sale Ad 2022! BOGO Free, Half-Price, Summer Kickoff Sale, and many special offers are available on this ad. you should check it out and buy your favorites with awesome deals!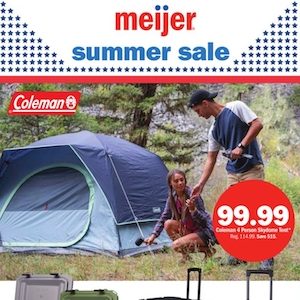 Meijer Summer Sale Ad 2022
Camps and picnics are among the most entertaining activities of the summer and spring weekends and holidays. Picnic and camping are the most fun of outdoor activities. They are enjoyable to socialize and enjoy with all your friends, family and loved ones.
Before going to such activities, it is essential to make a good organization and product list. Plan your organizations according to time and activity. The most important factors of these organizations are the goods. All items are predetermined, meals and BBQ must be prepared in advance! Meijer Summer Sale Ad 2022 brought many specials for you. You should take a look at these products and get your needs at low prices!
You should take extra blankets with you for picnics and camps made for fun in nature, you can make your elders comfortable by choosing places such as foldable camping chairs or gazebos. Let's find the best in Meijer Stores!
Meijer Ad This Week
Coleman 4 Person Skydone Tent or Reg, $99.99
Igloo 52 QT Bmx Cooler, $119.99
Lake & Trail Deluxe Sport Chair, $24.99
Kings River Monster Hard Arm Chair, $39.99
Lake & Trail Cast Iron Pie Cooker, $12.99
Ugly Stick Fishing Rod Combos, 20% OFF!
Fishing Hats and Shirts, 25% 0FF!
Camping equipment plays a big role in your activities to be fully enjoyed. For a comfortable day or camping-style activities, you should definitely procure the basic needs of these materials and put them in your basket. However, besides the basic needs, arbitrary materials and fun products, food and drink are also the things that should be included in the picnic basket preparation. Meijer Ad includes everything you need for camp and picnis in summer. You should take a look at their product range and find your essentials!
Protect Your Skin!
High protection factor sunscreens are available for those with sensitive skin. Apart from this, other cream types that can be used in all seasons can be listed as follows: Bronzing gel creams, anti-spot sunscreens, water-resistant sunscreens and non-oily herbal sunscreens. Creams and lotions specially produced for babies and children are also among the available options. If you need a new useful sunscreen, you should browse this Meijer Weekly Ad and buy the best with special deals! BOGO 50% OFF of equal or lesser value Sun care products!
So here is the latest Meijers weekly ad. If you want to check out their latest ad regularly, you can subscribe to Meijer from its category page with your email. Also, you can follow us on our social media accounts like Instagram. We share the latest ad in the US regularly!