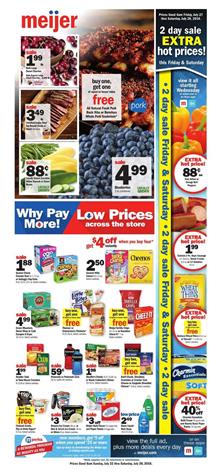 2 Day sale at Meijer covers Extra Hot prices for some snacks. Nabisco wheat thins or triscuit, Eckrich rope sausage, peppers, and more products are featured. Meijer sells some nice pantry products at nice prices. BOGO Free deals are particularly highlighted in the new ad. Find low prices through this ad preview. Bulk large sweet cherries, certified angus beef top round steak or roast, locally grown zucchini and more on the first page.
Check out Buy 4 Save $4 mix and match products. Go to pg 7 for a lot of cereal types including Reese's puffs, Multi Grain Cheerios, Trix, Cinnamon toast crunch, Honey Nut Cheerios and more. Grocery sale that covers products like Jif peanut butter, KitKat, Raisin Bran of Kellogg's can be seen on pg 9-11. A wide range of essential food and snacks for the whole week. Baby products are on sale. mPerks coupons are valid for most of the products in that category.
Some BOGO Free deals from this ad:
Meat:
Grocery and Frozen food:
Follow the Facebook page and hear more about Meijer Weekly Ads or subscribe to this page for emails.