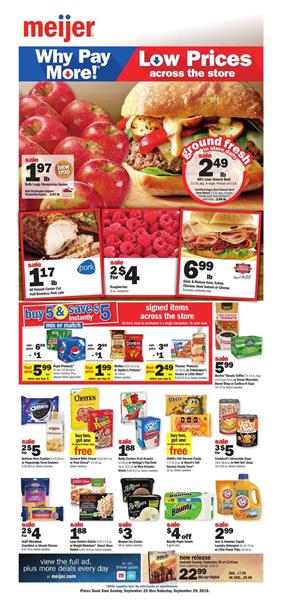 Low prices of fresh produce, supermarket products, a wide range of grocery, snacks and more from Meijer Weekly Ad Preview are viewable right now. This week again, you have BOGO Free deals, mix and match sale, chicken tenders, Angus beef boneless, cooked shrimp and more. Get $5 off when you spend $25 on Mars Halloween candies. Nestle Toll House products will cost $4 for 2. Fresh Produce including tomatoes, apples, Avocados is another major sale. Visit pg 3-4 for the details. BOGO 50% off salads, and Strawberry or Vanilla berry yogurt parfait. Organic products are also featured.
Dairy and Frozen sale cover many products on pg 4. Buy 5 Save $5 mix and match sale with Coca-Cola, belVita, Kraft singles, Yoplait yogurt, Dave's Killer bread and more. Find three BOGO Free deals on grocery products.
Buy 5 Save $5 Mix and Match Sale:
True Goodness healthy food is an alternative and fair prices are available at Meijer Ads. A single page shows the deals on True Goodness products on pg 8. Non-food part of the ad is interesting, too. Beauty sale, pharmacy products, allergy and pain relievers, personal care items and cleaning products are on sale. See also, athletic shoes, home appliances, and more. Meijer has a Marvel sale. Backpacks, figures, medicines, DVDs, toys and more of Marvel characters. You can even find Chobani Greek Yogurt with Spider-Man on it.