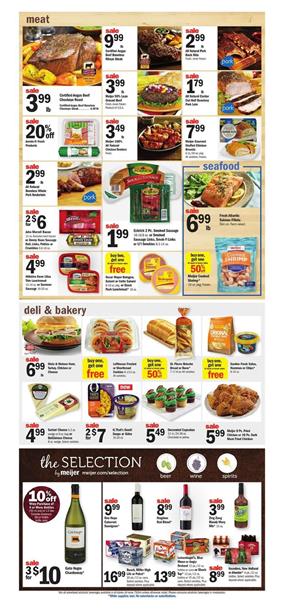 Mix or match at Meijer stores this week. DiGiorno pizza, Kraft cheese, Doritos chips, Nature Valley bars, Bear Creek soup mix, and more products are participating in this sale. Buy 5, Save $5 with the purchases of these participating items. Meijer has wide fresh food range. On the first page and the third you will see a selection from chicken to seafood. Packaged meat offers are also available in these pages. This store and its ad are perfect to seek a good deal of instant foods. They are particularly good at salad packs, and all the other instant packaged foods. If you have some of these around, I don't think you'll be wasting time whenever you are hungry. Check out Meijer Ad for details of the deals.
Meijer offers mix or match items on pg 7-8. Check out those on the first page as well.
Grocery products, dairy & frozen, fresh produce with large cantaloupe, pears, tomatoes, Gala apples and more are available on pg 5.
Seek your favorite snacks for consuming while you watch the games. If you are interested in sports matches on TV and like to stock these products, save more. Meijer offers reasonably low prices for these items. They are generally fast food packs. Quickly prepare them before the match and enjoy.
Subscribe to Meijer Weekly Ad for more BOGO deals, savings and other products.