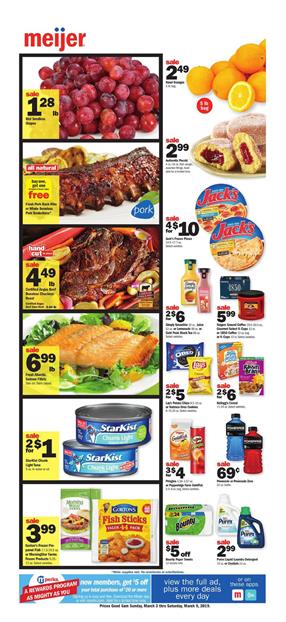 This is the preview for the deals that are valid next week. Shop Meijer grocery products with BOGO Free deals, coupon savings, weekly sales. Pet products are a special deal next week. Buy Blue Buffalo products for 10% cheaper prices. Blue Dog and Cat foods are available within range. Check out red grapes, Angus beef chuckeye roast, salmon fillets, and more on the first page. That summarizes the great deals. Dozens of grocery items will be available with similar deals. For example, Jack's frozen pizza is $10/4! Buy 2 Kellogg's cereal packs for $6! Powerade, Pringles, Lay's Potato chips, and more are also available in the new sale.
Find an extensive range of deals on meat, deli-bakery on pg 5. Shop seafood specials such as cooked shrimp, frozen fish, cold water lobster at Meijer. The ad also has a fresh produce section which is a source of BOGO deals and price drops for strawberries. Browse fridge foods and dairy range including Kraft shredded, chunk or crumbled cheese, Meijer chocolate or Strawberry milk, Horizon organic milk, Pillsbury Grands! biscuits, Solero ice cream bars, Eggo waffles, and more on pg 7.
In addition, the ad covers a lot of these. A wide range of grocery, stock up & save, Meijer brand products, Buy 4 & Save $4 mix or match, and much more.
Stock Up and Save: