Check out the new prices for your favorite grocery products in Meijer Weekly Ad Sale 13 – 19, 2023. Meijer deals like 7 for 7 sale will help you save more. Pick any 7 or more and buy every one of them for only $1! Use mPerks barcode and check out faster. mPerks coupons are making these regular purchases much cheaper and faster.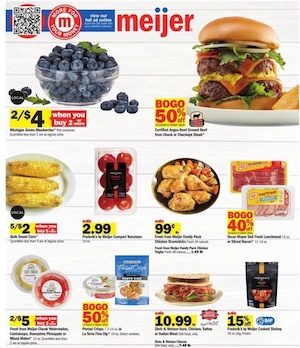 They have a tech sale in advertised early in the new ad. You can save $75 on Xbox Series X. Also, buy a new TV from Meijer. They have element, VIZIO, soundbars, and more products on the second page where you can also buy video games, wireless controllers.
BOGO 50% off Ground beef from chuck or chuckeye steak
BOGO 50% off Pretzel Crisps, La Terra Fina Dip
7 for 7 sale: Oh Snap! Pickles, Large Mangos or Extra Large Avocados, Bush's Ingredient Beans, Campbell's Condensed Soup, and many more products
VIZIO, element TV deals. Plus $30 off your next in-store purchase with coupon.
Xbox Series X Console Forza Horizon Bundle for $559.99  – save $75
BOGO deals: Frederik's by Meijer Pre-Sliced Meat or Cheese, General Mills Large Size Cereal, Yoplait Oui Yogurt
BOGO Free Naturipe Bliss or Boost Bento Snacks, Kevita Organic Kombucha
Multiple-buy deals on grocery items, frozen foods
Check out the special deal on General Mills Cereals. They have Yoplait Go-Gurt Yogurt, Yoplait Kids Yogurt, General Mills Treat Bars, Lärabar Bars, Progresso Protein Soup, and more products
Subscribe to the newsletter of weeklyads2.com and start receiving new deals in the future. Meijer Weekly Ad Sale Aug 13 – 19, 2023 is one fo the best ads at the moment to see for grocery savings.