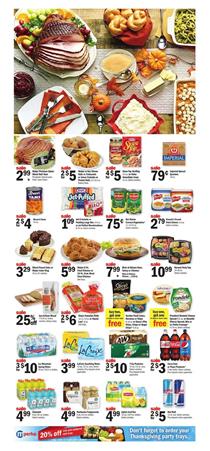 This is one of the Meijer Ads that are currently going on with the valid deals. Thanksgiving food is primarily what you can notice when you briefly look inside the flyer but there are many more than these. If fresh products, whole turkeys, frozen meat products, fresh cut delicious meat, seafood, deli and bakery are interesting to you, perhaps these low prices can draw your attention as well. So check out the prices that are not yet valid but viewable as a preview before November 19 here.
Meijer offers delivery with Shipt. Order your Thanksgiving food, get the service 2 weeks free and get the discount of $15 off in your first order. True Goodness organic products are on the first page as well. Organic gourmet stuffing, sliced portabella mushrooms will cost you only $5 for 2. Get frozen potatoes for $5/2. (16 oz.) and frozen chicken will cost you only $5.99 this week.
Go to pg 4-5 for fine food selection including BOGO Free items.
Order your pre-made turkey at Meijer. The price for that turkey which is browsable on pg 4 is only $49.99! Fresh meat offers can be seen on pg 6. Seafood range of Meijer store can also be seen on pg 6.
Dairy, frozen food and groceries are going to be sold at lower prices of Meijer this week. Pick the best ones at more affordable costs if you are looking for good pantry and quick food ideas. If processed food is your weakness, try to avoid consuming much of them.
You can surely avail much more than this. Examine the content of the ad to save more and pick more of your favorites.