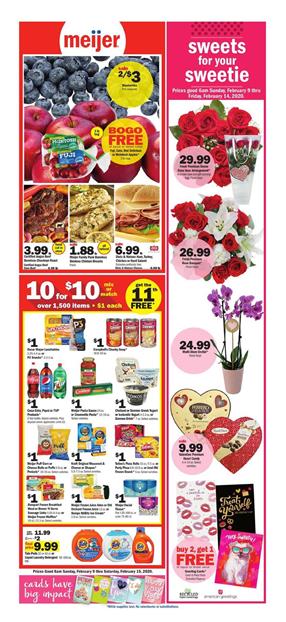 The 2-day sale of Meijer should be valid today and tomorrow. See the Meijer 2-day sale ad here. Meijer can deliver flowers. Browse all the flowers on their official page prepared for Valentine's Day. Plush toys, decorations, all you need for the preparation of a romantic dinner. The latest Meijer Ad is apparently a special source to find some Valentine's Day products, particularly rose arrangements. Apart from that, you will see a lot of grocery deals like 10 for $10 mix or match sale. Get 11th product for free! An extensive list of products participating in the 10 for 10 sales is on pg 2. Meijer Weekly Ad Valentine's Day Feb 9 – 15 sales may be an easy guide for everyone to find gifts and classic products to create an atmosphere.
Fresh food, dairy & frozen products, True Goodness organic foods, mPerks coupons, plenty of multiple-buy savings, and other categories like apparels are available on this Meijer weekly ad. Meat sale is a bit more humble compared to previous weeks in 2020. You would see a lot more BOGO free deals in that aisle.
Fresh produce is something to see in the ad. BOGO 50% off cooked shrimp, burger meat, t-bone steak, and fresh fruits are possible to spot on pg 3.
From Meijer Weekly Ad Valentine's Day Feb 9 – 15:
Meijer Weekly Ad Household Deals mPerks Coupons
Awesome savings on household items such as cleaning chemicals from top brands are available on pg 10. Most of these discounts exist because of the mPerks coupons. Laundry detergent, disinfecting spray, wipes, and many more products are in the category. You can also find baby care products.
Final prices after mPerks coupons: