This ad was published on Wednesday. You can reach this new one with the preview link of the image.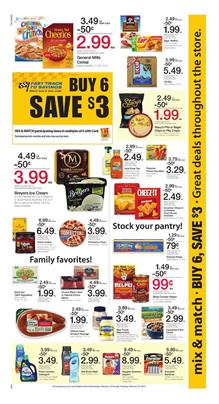 It contains breakfast food, cereals, ice cream, dairy food and favorite brands of beverage and bulky products. You will save $3 when you buy 6 of the participating items. General Mills cereals, clif bar, Eggo waffles are among the products. There are lots of goods in this range. Check out pg 5 for the details.
General Mills Cereal $2.99
Quaker Instant Oatmeal, 8-12 ct; $1.99 ea
Remember these prices are valid when you buy 6 of "participating items" not the item you want to buy only. Any of participating items. Breyers ice cream and other ice cream types are priced at $3.99 ea. Add some of these ice creams in your shopping list.
Breyers ice cream $4.49 ea
Yuban coffee $6.49
Tombstone Pizza $3.99 ea
Hormel Black Label or Natural Choice Bacon $3.99 ea
Birds Eye C&W Vegetables $1.99 ea
Hillshire Farm Smoked Sausage $1.99 ea
Cascadian Farm Cereal 9.2-16 oz, or Breakfast Bars, 5-6 ct $2.99 ea
More products are being shown on pg 7. Clorox liquid bleach, dog food, cat litter and many more products are also featured. Non-foods and househol supplies with the buy 6 save $3 deal will be a profitable trade for all of you !
Hefty Storage Bags 12-40 ct or Finish Dishwashing Tabs, 14-20 ct; $3.49 ea
Gatorade or G2 $5.49 ea
Velveeta $6.49 ea
Lysol Disinfecting Wipes 75-80 ct or Lysol Disinfecting Spray, 12.5 oz $4.99 ea
Schick Quattro Disposable Razors $7.49 ea
Pedigree Dog Food $10.99 ea