Ralphs Weekly Ad Jul 15 – Jul 21 prices are viewable on the preview page.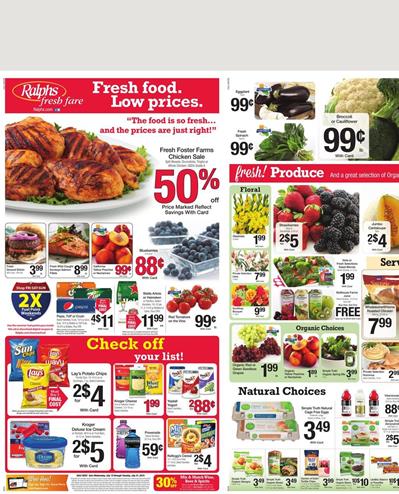 Use the links on this post to reach new preview of products. Ralphs Weekly Ad is again a customer friendly sale featuring some new products and prices. You can find a great range of products on this weekly ad and you can even make profit by saving because they offer rewards, Buy 6 save $3 deals, seasonal prices and many more similar to these. Outdoor living products are again placed in the weekly ad like they were in previous weeks of summer.
Fresh fare Ralphs fresh products first page offers are:
And even more products on the cover of this Ralphs Weekly Ad are featured this week. Yoplait yoghurt is one of the best brand of yoghurts across the whole country.
RALPHS WEEKLY AD FRESH GROCERY JUL 15 – JUL 21
From broccoli to strawberries you are currently browsing the latest Ralphs fresh products ! Select the best for you and save even more !
Eggplant, broccoli, strawberries, cataloupe, seedless grapes etc. pg 2.
See new deli products on pg 2-3 as well.
This week Wholesome Home roasted chicken is only $7.99 !
USDA choice ribeye steaks is priced at $7.99 lb. pg 3.
Private selection $4.99
Ralphs Weekly Ad Household Supplies
Another great product selection of Ralphs Weekly Ad is household supplies like chemical cleaning supplies. On pg 4 see also BUY 3 SAVE $3 mix&match sale !
Mix&Match :
Some Household items:
Downy fabric softener $4.99 pg 4
Tide laundry detergent $10.99