Ralphs offers plenty of products participating in Buy 4 save $4 deal. On cover page and on pg 4,7 you can browse all these offers.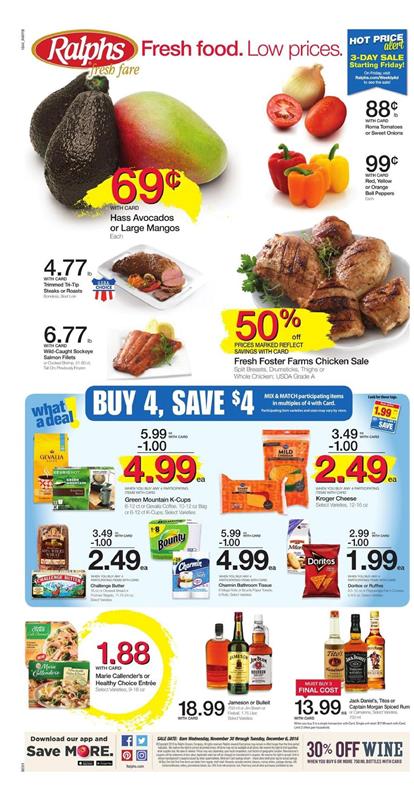 Generally this ad contains snacks, beverage, breakfast food, convenient food, pizza, sweets. In addition, this ad can offer you suitable prices of holiday items like Christmas gift wraps and decoration. On cover, interesting deals and a part of the buy 4 save $4 deals are being shown.
Spotlight Deals: Ralphs Ad Nov 30 – Dec 6 2016
This week's two most important savory deals belong to holiday products and buy 4 save $4 participating items. With that said, you should also check out some occasional sales like these:
Hass Avocados or Large mangos $.69 – cover
50% off Fresh Foster Farms chicken sale
Marie Callender's or Healthy choice entree $1.88
On pg 2 you got special sales by Ralphs.
Van De Kamp's bread – Kroger peanut butter – Jelly 10/$10
Cheetos or Fritos 2/$4
Pepsi, 7UP or Crush $2.77
Amy's bowls 2/$7
Ralphs Buy 4 Save $4 Deals
These are mostly browsable on pg 5 and pg 7. As mentioned with such a profitable sale you will reduce the cost of this week's shopping significantly. If you follow these weekly ads till the end of the year that would result in a huge saving. People can even make a small grocery store out of those savings via weekly ads.
When you buy 4 participating items:
Haagen-Dazs Ice cream – novelties – outshine fruit bars $2.99
Kellogg's cereal $2.99
Keebler town house or club crackers 2.49
Kraft salad dressing $1.99
Freschetta pizza $4.99
Blue Diamond Almond breeze $1.99
Kroger or foster farms chicken $5.99
Not all details and product list were written here. Please visit pg 5 and pg 7 to see complete list. To see holiday deals like party platters, snacks, turkey dinners and more check out pg 6 and pg 8.