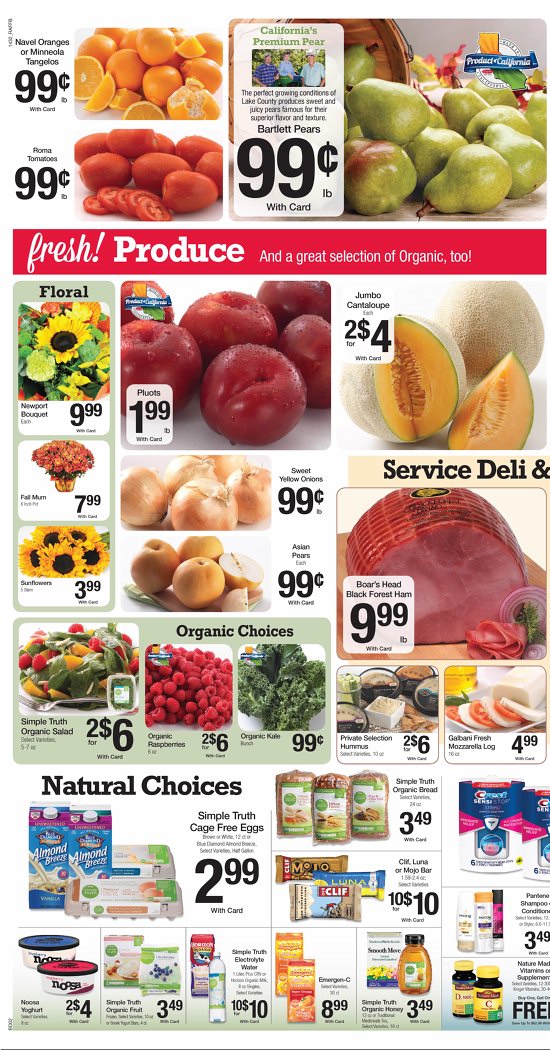 Grocery shopping is necessary as it's healthier to cook at home.
You can choose your favourite snacks and groceries from Ralphs grocery weekly specials ad.
This ad is valid from September 10 to September 16. Hurry up to get these prices.
There are special offers and discounts on many products this week. Let's explore the Ralphs grocery weekly specials.
LOW PRICES AND FAST CHECK OUT ONLINE
On the front page you can see the special offer 50% discount on pork products. If you have Ralphs card, this offer is available online and at the stores.
Pork Chops, Pork Roasts, Pork Ribs are 50% off with card.
Fresh fruits are important for daily vitamin needs. Red or Black Seedless Grapes are for  99¢ with card.
Clementines are $3.99 with card.
Also there are fresh seafood varieties on the front page. Check that out too. Eating fish 2 times a week is good for your health.
On the second page, you can find organic choices. Fresh fruits and vegetables are available.
Also there are some special offers from deli section. Delicious food for breakfast.
CHECK OUT BUTCHER SHOP FROM RALPHS GROCERY WEEKLY SPECIALS
On the third page there are choices from butcher shop. USDA Choice New York Strip Steaks are for $8.99 with card.
Land O'Frost Premium Lunch Meat is for $3.99 with card.
You can see more products and save more.
Good news! There is 30% off on beer, wine and drink specials on the 4th page. Make your dinner fun with your favourite drink.
For more savings and offers, please explore the whole ad.
Enjoy your week with Ralphs!