Father's Day deals have been included in the new Safeway Ad. Exclusive digital coupons can help you save more this week. Check out the new fresh fruit deals. Red Cherries, Sweet Corn, ground beef, beef tri tip roast, and more products are all featured offers on the first page. Just for U coupons are great. Safeway always has them in these ads. Use these coupons to buy Sargento Shredded, sliced or chunk cheese for only $1.99. All you need for a grilling party can be seen in the fresh meat section. Check out the Friday sale, too. Every item of Friday sale will cost $5. Here are some of the Safeway Ad Deals Jun 14 – 20: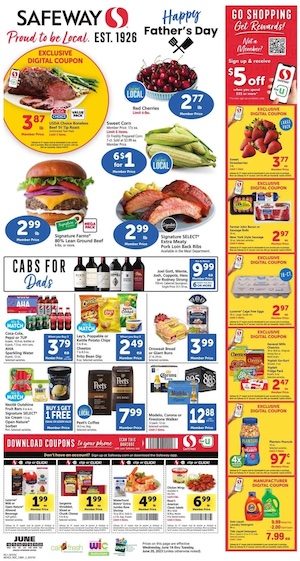 USDA Choice Boneless Beef Tri Tip Roast – exclusive digital coupon – $3.87/lb.
Sign up & Receive $5 off when you spend $25 or more
Have fun with delicious food and drinks from Safeway Ad Deals Jun 14 – 20:
Lay's, Poppable or Kettle Potato Chips 5 to 8-oz. Cheetos 7 to 8.5-oz. Frito Bean Dip 9-oz. $2.49
Nestlé Outshine Fruit Bars 4 to 6-ct. Signature SELECT® Ice Cream 1.5-qt. Open Nature® Sorbet BOGO free
Download coupons to save more:
Lucerne® Milk or Open Nature® Almond Beverage $1.99
Sargento Shredded, Sliced or Chunk Cheese 5 to 8-oz. $1.99
Waterfront Bistro® Extra Jumbo Raw Shrimp $4.99 lb.
Friday sale:
Fresh Baked Butter Croissants 2 for $5
Chicken Tenders or BBQ Rib Tips $5
Wild Caught Lobster Tail $5
Johnsonville Dinner Sausage or Smithfield Bacon 19-oz. Sausage or 24-oz. Bacon. Evergood Sausage 12-oz. $5
Hormel or Stagg Chili with Beans 3 for $5
Subscribe to the newsletter of this website to get emails about deals like this.