The new Safeway Weekly Ad covers a lot of things including the big deal on some drinks. Check out the first page for BOGO free sale. There are also pumpkin flavored products at Starbucks this week. Meat sale looks good. Make spaghetti and meatballs with Laura's 85% lean ground beef which will cost only $7.99/lb. You can get deli products with Doordash. Download coupons to save more. The exclusive coupons might be the sole reason for people visiting this ad. Use these coupons to save on products like blueberries, raw shrimp, and more items.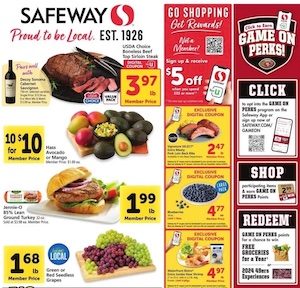 There are deals as good as them. Buy 5 Get 5 sale for box tops, and the Friday sale are interesting offers in this week's ad.
Safeway Exclusive Coupons Aug 23 – 29 from the Safeway weekly ad:
Signature SELECT® Extra Meaty Pork Loin Back Ribs $2.47 lb.
Blueberries $4.77
Waterfront Bistro® Extra Jumbo Raw Shrimp $4.97 lb.
Lucerne® Shredded or Chunk Cheese $5.87
O Organics® Milk Gallon. Selected varieties. O Organics® Eggs 18-ct. Large, Grade A. $5.87
Yoplait Yogurt $.37
Nabisco Ritz Crackers $1.97
Powerade $5.97
Signature SELECT® Pizza $4.97
Kettle Potato Chips $2.47
Sign up & receive $5 off when you spend $25 or more. Don't forget to use coupons when you start shopping groceries at Safeway stores. Safeway Exclusive Coupons Aug 23 – 29 are some of the best deals you can find this week.