All three stores have new ads with New Year celebration deals, party supplies, and snacks. You can use the for U coupons at Vons and Safeway. And Fred Meyer has digital coupons. One of the great things about the New Year ads every year is the storage sale. This time, they have the biggest storage sale of the year. If you like to cook for the party, you will probably like these ads because they offer lower costs of ingredients and seafood-meat products. Each has unique type of deals, too. Pick 4 sale is an example from the Vons ad.
Safeway Weekly Ad New Year 2022 – 2023
Save on new products of coupons and check out the deals of the 3-day sale. You can find meat & seafood products at lower costs. Look for the red tag that will show you the items of the pick 4 sale.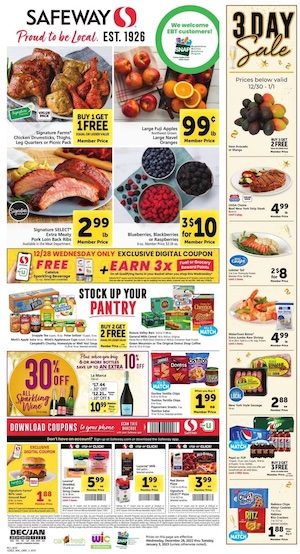 Fred Meyer Weekly Ad New Year 2022 – 2023
Earn 4x fuel points with digital coupon on Friday purchases. T-bone steaks is only $8.77 at Fred Meyer. They have a new winter sale and the biggest storage sale of the year. You can save an extra $5 when you spend $25 on storage.
Vons Weekly Ad New Year 2022 – 2023
Explore the new digital coupons of for U on this ad. They have great deals on meat and snacks. New York Steak is only $6.99 per lb. Pick 4 or more. Mix or match sale is one of the important deals of the week.
Subscribe to the newsletter of weeklyads2.com and start receiving new ads and deals like these.