Top deals of the Safeway can be tracked down using the simple system of its weekly ads.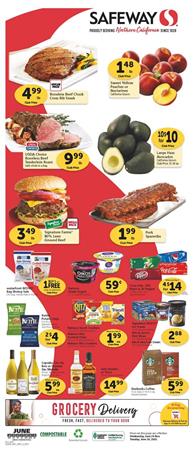 They always collect the good prices in these Safeway Ads. In the new ad, you can learn about new prices of multiple-buy deals on fresh products like fruits and meat products such as boneless beef chuck cross rib steak. Each category has something special to offer. Every season has its needs. Now, we are in the grilling season when you can find a lot of products from the meat department addressing those who like to grill. When it comes to grilling don't only think about the meat. There are really nice healthy vegetables that are grillable. Red pepper, big slices of onions, potato slices, and eggplants are perfectly grillable and they are low-calorie options compared to meat. Also, fish products like salmon fillets are nice to grill. If you have a backyard, I think it's time to live in it to the fullest. Safeway Weekly Ad Grocery Jun 24 – 30 is a fine one from this week's ads.
Enjoy another good deal by Safeway weekly ad grocery Jun 24 – 30 range. Visit pg 3 to see Friday sale where you can find out each item is priced at $5. Most of these products are $5 each. Shop the products on Jun 26th. Buy chuck short ribs, open nature lamb loin chops for only $5/lb.
And coupons are great extra savings, too. Matchups of the coupons with the club prices are available on pg 3, too. Buy 4 Save $4 deal, non-food products, and more are also available int he latest Safeway ad.
Friday sale:
Buy 4 Save $4 mix & match sale: