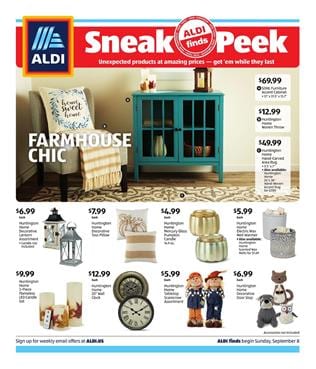 One of the methods to modernize your living room with subtle changes is to buy a nice cabinet. Small or big, look for the colour suitability and usefulness of the space occupied by the cabinet. Huntington House and SOHL Furniture ideas are available on the first page of the ad. ALDI Cabinet deal is the SOHL accent cabinet which is also on the same page. With its pale blue painting and wooden structure, this piece of furniture mixes old and new together. Buy a cabinet that won't tire your brain with its looks indicating simplicity and minimalist design. Store books, accessories, little decorative items in this cabinet. Improve the look of the corner where you think you will place this furniture with a dim light. The image on the ALDI's first page suggests that completing the view of that corner with a seater is a nice idea, too. Save with the ALDI Cabinet deal and many more products from the ad.
ALDI has kitchen products, too. Cookware and kitchen gadgets will be on sale this week. Get active and stay healthy with indoor gym equipment. Working out at home may be less boring than gym. Watch your TV while cycling on the training bike. Or you may be out of touch with the sports. If you have an office or working room at home, you may consider buying the essential furniture at ALDI since this ALDI Ad In-store sale covers some office furniture on the final page.
Subscribe to the free newsletter to get more deals by ALDI Weekly Ad in the future.