Sprouts Ad Deals Jul 12 – 18, 2023 is a great tool to find organic food deals. Starting from the first page, they offer new deals on cherries, grapes, bulk coffee, tortilla chips, salmon fillets, and more products. The steak you can find in this ad is probably unbeatable. Grass-Fed steaks will cost 10% off. Buy 85% lean ground beef for only $4.99 perlb. Save up to 20% off on Sprouts brand favorites accross the store. This ad will also be useful for finding deals on supplements and wellness products. Buy 93% lean ground turkey and get another for 50% off.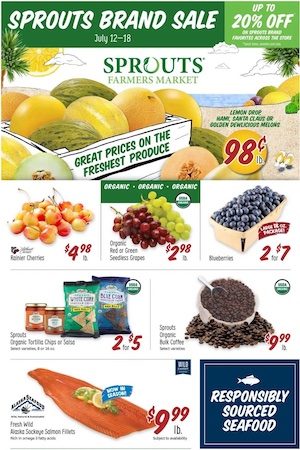 Organic deals: bulk coffee $9.99/lb, organic grapes $2.98
Meat and chicken: 10% off all-natural Angus Beef, chicken tenders, BOGO free Sports nutrition or protein powder, dairy free coconut milk, and more products
BOGO 50% off One Pan Meals
Sprouts Artisan Bread $4.59
Organic Products: kiwifruit, red cherries, raspberries, and many more
20% off Marinated boneless skinless chicken breast or thighs
Butcher Shop Sliced Bacon BOGO 50% off
10% off Dakota 100% off Grass-fed organic beef steaks
15% off Nature's Way Best Selling supplements 15% off
Dozens of more products are available in the latest Sprouts Ad. You will love this ad if you like to buy organic products from this store. Subscribe to the newsletter of weeklyads2.com and start receiving new deals and ads in your email.