Sweet BOGOs will help you save on organic foods this time. You can see products like mushrooms, blueberries, red cherries, organic free-range eggs, and more in the BOGO sale. There is not only fresh produce and meat in the ad. A big portion of it is actually the packaged foods. Yummy all-natural frozen chicken nuggets, red's frozen burritos, and more products are all featured deals.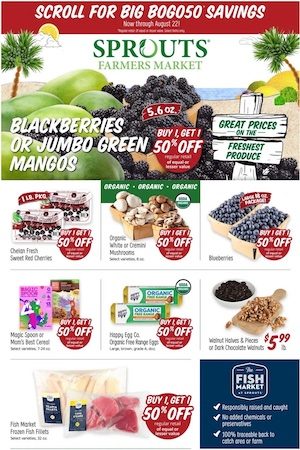 The Sprouts Weekly Ad is not only about grocery and organic foods. You can always find a good deal on supplements and dietary products, too. Sprouts also sells plumcots. Find green, red, dapple, and black plumcots at great prices in the new ad.
Browse these Sprouts BOGO sale Aug 16 – 22:
BOGO 50% off cherries, mushrooms, blueberries, mom's best cereal, organic free range eggs, and more
BOGO 50% off Unreal Deli Slices, Volpi Pepperoni or Genoa Nuggets
BOGO 50% off Taylor farms chopped salad kits, One Pan Meals, Fish Market Frozen Fish Fillets, Goodness Grazecious Grass-Fed Organic Ground beef
BOGO 50% off Snack Factory Pretzel Crisps, Sprouts Family Meals or Family Salads, Vicolo Original San Francisco Corn meal Applegate Naturals Sliced Meats, Birch Benders Frozen Toaster Waffles
BOGO 50% off avocados, cantaloupes
BOGO 50% off Kind Breakfast, Granola, Thin Bars, Alkaline88 Water, Barney Butter Almond Butter or Noka Organic Smoothies, Serenity Kids
BOGO 50% off Counter Culture, Groundwork, Stumptown, Wicked Joe or Peace Coffee
Subscribe to the newsletter of weeklyads2.com and start receiving new deals.