Sprouts sells organic fruits, cookies, bacon, and more products at lower prices. As you are probably familiar with, this ad is one of the best organic food deals you can find. Buy chicken breast, ground beef, sirloin steak, sparkling water, egg bites, and more items at lower costs. Deli meals are available at Sprouts. Buy delicious ones and save half on the second one. If you are looking for a good deal on meat, this is the right address. Don't forget to save 10% off marinated chicken breast or thighs. Go to the healthy food section if you are looking for grains.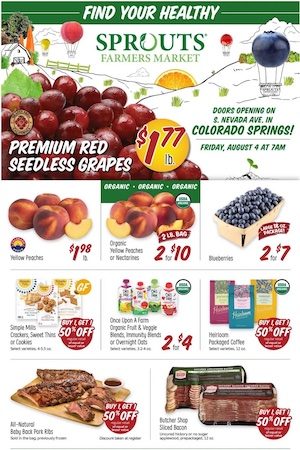 BOGO 50% off crackers, sweet thins, cookies, packaged coffee, sliced bacon
20% off Three Bridges egg bites, Organic Valley Mozzarella Stringles, MRM Best Selling Supplements
10% off Marinated chicken breast or thighs
BOGO 50% off Purely Elizabeth, Catalina Crunch Snack Mix, Sandwich Cookies, Bonne Maman Fruit Spreads, and more
Look further for the best deals on organic foods and the extensive grocery range in the ad.
Subscribe to the newsletter of weeklyads2.com to receive these ads and deals. Sprouts Deals Aug 2 – 8, 2023 can be seen on the latest weekly ad. Follow our social accounts where we share news and posts about these deals.