Target and Meijer Ads are both great deals that can offer quite a few items at lower costs. Target has new deals on TVs and Spring time fun products. Target offers hats & sunglasses, Spring dresses, shorts & leggings, and more of the clothing category are featured items in the new ad. If you like St Patrick's Day and Irish foods, you will love the new Meijer Ad. Also, they have a new 7 for 7 sale. Avocados, mangos, condensed soup, pudding, gelatin mix, cookies, and more products are participating in it.
Target Weekly Ad Mar 12 – 18, 2023
Buy a new TV at Target this week. You can get free gift cards and save hundreds on TVs on Target ad. Special offers for the football games are not the only things you can spot in the new ad. They have Easter deals this week. Target Circle Offer 25% discount on Favorite Day Easter cookie kits is a special deal this week.
Meijer Weekly Ad Mar 12 – 18, 2023
St Patrick's Day treats & party products are featured offers on the first page of the new ad. Meijer has price-lock, 7 for 7 sale, and many more products. Irish Stew Recipe is a great one you might wanna check out for St Patrick's day, too.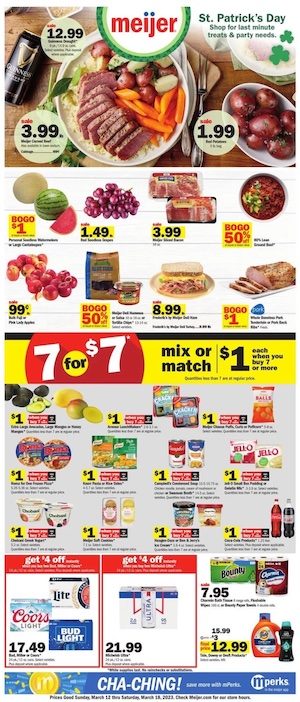 Much more can be seen in these ads. You can always get emails about these deals if you subscribe to the newsletter of weeklyads2.com.