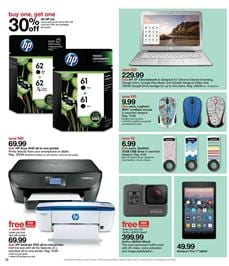 Last day for the Target sale ! iPhone 7, HP printers, Chromebook, entertainment sale including toys, game console, video games and DVDs. And snacks you would probably love to eat while spending time on your favorite device or watching films. iPhone 7 features 12 MP camera now. You can upgrade to this camera. With Verizon, Sprint you will also get free $100 Target gift card. Learn details for the product on pg 13. Google Home is $129 at Target stores this week. Today is the last day for shopping these prices. Manage your home with these products. There is also a learning thermostat. Target ad offers some good deals on pg 13;
Mouse, usb Drive and more electronic accessories are on sale. Kong Skull Island is on DVD. It's only at Target. Get this movie for only $24.99 in Blu-Ray. Nintendo Inkling girl amiibo figure is $12.99. It's available today. You can get an iPod touch for $199.99 at Target. Duracell AA or AAA batteries 20 pk is $13.99. Recently released DVD movies are John Wick 2, The Fate of the Furious, Beauty and The Beast.
Your favorite snacks are on pg 16-17. Dasani water, Chips Ahoy!, LaCroix sparkling water, Frito-Lay chips are among the snacks on sale. Stock up some snacks and never let yourself be snackless while doing something joyful indoor. Target has more than these. The ad contains a lot of discounts and free Target gift cards. You should see the full ad on the preview page. Follow Target Weekly Ad on social media sites. Subscribe the ad here.