Target Ad Preview 17 May 2015 products are the ones of the best.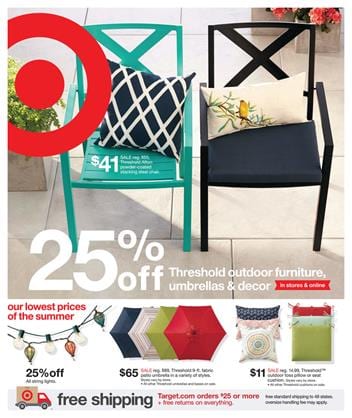 CLICK HERE TO SEE TARGET AD 17/5/2015
Patio furniture and BBQ variety, the best of swim wear, summer entertainment products like pools to put in your outdoor, products for kids etc. Target Ad Preview 17 May 2015 allows us to save a big amount of the shopping part of our budget ! Toys are also featured on the new Target sale. Mobile phones and electronic products are also available.
TARGET AD 17/5/2015 SALE PRODUCTS
The new sale of Target focuses on the summe products mainly on this section. Brilliant selection of the Target Ad will make you save a lot.
On the cover page check out two beautiful chairs for your garden and some of the umbrellas with 25% discount.
BBQ variety, grills, char-broil on pg; 2.
Rugs are also available on pg; 2.
See new Grills and essential items for cooking outside pg; 3.
Pool for kids in summer, tent and some of the camping entertainment products on pg; 4-5.
Swim wear for kids including slippers on pg; 6-7.
Bikini for ladies and swim shorts for men on pg; 8-9.
Sandals for women and tee&tank sale for women on pg; 10.
Toys of Disney, LEGO and Fisher-Price pg; 11.
Mobile Phones, DVD movies and Video games and Playstation 4 priced at $399.99 pg; 12-13.