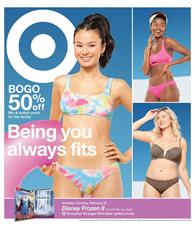 The swimming season is getting closer. If you are not ready with your wardrobe seeking good deals on some bikinis or swimsuits, Target Ad Swimwear Sale Feb 23 is here for you. Kids and ladies' swimwear collection is browsable right now. You can also find casual clothing for Spring. Basically, the new season is opened with the first Target weekly ad offering sundresses and rather thin jackets. Disney Frozen II DVD is now at Target. You can find not only the DVD, but you may find toys from Frozen II movie. In the toy sale, you can also find LEGO sets like Classic and Harry Potter. Other than that, Hatchimals, Baby Alive, Fortnite, Transformers toys are also in the Target toy sale for Feb 23 – 29. Dr. Seuss read-along in-store event will take place on 29th Feb. More is in the ad. Electronics, home appliances, furniture for indoor and outdoor, baby care, skincare, beauty, and pharmacy categories are possibly interesting categories for everyone. The Frozen II DVD will be available on Feb 25. Target Ad Swimwear Sale Feb 23 – 29 offers BOGO deals:
Target Weekly Ad is not the only deal by this store. Go to the main page of target.com to see furniture and home deals today.
Are also important savings. Try same-day delivery by Target and be a member to save more and get your products delivered quickly.