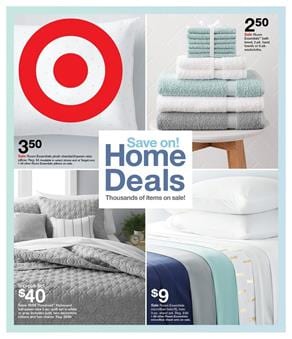 Redesign your entire home with the new products from Target weekly ad. Luxury products from this ad may inspire you and give you ideas for how to make your home like a 5-star luxury hotel. Room Essentials, Threshold furniture, sheets, rugs, furniture, lights, Spring patio sale, and other stylish items are available on the weekly ad. Currently, thousands of items are on sale according to this ad. The summer style consists of colorful flowers and patterns with pale colors. Find towels, sheet set, decorative pillows, and more on the first page. Bedding products like throws and pillows are available on the second page. You save save $$19.99 off Threshold tropical floral quilt. A little light beside your bed might change the entire atmosphere of your house. One can really tell the different things about these pieces. They cost fairly lower than in most places, too. For example, you can buy accent lights for only $28. Basics from Target Home Sale Mar 22 – 28, 2020:
Target Home Sale Mar 22 – 28 – Patio Furniture
Gardening products like potting mix and planters, medium-duty hose, watering nozzle, and more items are available on the ad. You can buy a Gilmour 50-ft. medium-duty hose for only $14. Add something new to your set of furniture in the backyard. You can make it like a living room during your self-quarantine time. The weekend is coming. On Sunday, you can shop these items or start making your list with Target Weekly Ad today.
Discover many more items on the patio section of this ad. Buy something for your kitchen, too. Target chose classy products for your coffee routine in the mornings and they have also new deals on vacuum cleaners.