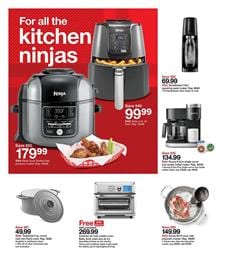 Renew your kitchen appliances with the new deals of Target Weekly Ad for Christmas is approaching. If you like to cook for occasions like this, the Ninja Pressure cooker might help you a lot. Pressure cookers make the process a lot faster and the results often are better than regular cookpots. If you have a truly good recipe for a good meal, then these kitchen tools are what you need to execute it. Also, not only cookers are in the latest Target Ad. You can find interesting deals like free gift cards. Coffee makers, air fryers, instant-pot deals are the items worthy of seeing.
Home products are really important sections of Target ads. An important part of the customers of this store is really interested in home appliances. As a result, you end up with finding good deals on these weekly ads. For example, this week's vacuum deals and bedroom products are perfect gifts for Christmas. Or you can buy them for your house just to add some quality and modern technology as an improvement.
iRobot products were very popular items of the Black Friday. You can still see some deals for Christmas. Target Ad is an example offering you a $200 discount on iRobot Roomba 960 wi-fi connected robot vacuum. There is also a clearance sale you should beware of. Visit pg 35 for the details.
This Ninja Pressure cooker is only $179.99 and it may seem a little bit expensive but check out its features. This is an ultimate cooking machine you can utilize in many ways. Because it's made of ceramic, stainless steel and metal. You won't need to worry about the sticky surface. You will save $50 on this product. Also, see more deals from the kitchen and home category of Target Weekly Ad:
More:
Vacuum deals and iRobot:
If you are interested in gifts and toys, check out these ads, too: