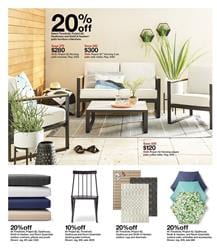 Furniture to decorate your backyard are on sale at Target stores currently. Modern and solid furniture with some addition of lighting and plants. These can make your garden a wonderful place to rest where you unite with your family everyday. Especially in summer, there is a great demand to these products. Lovely designs and suitable pricing might give you ideas. If you had intentions to buy something for your backyard, try to seek a good deal on this Target weekly ad. Target outdoor living sale is available on pg 9.
There is also a part for children. Kids may love the outdoor toys. Some Little Tikes toys look really nice and fun. Save 10% off all Little Tikes toys there. In this Target Ad, you'll be able to find more toys, entertainment products, and a Minecraft sale. Buy Minecraft items 15% off. You can see that page and its products today. Xbox Minecraft is a nice and popular exclusive of that console.
Subscribe to get more deals like Target Outdoor Living Sale May 10 – 16. These deals will be in more weekly ads. You have a lot of options on the Target online shop, too.