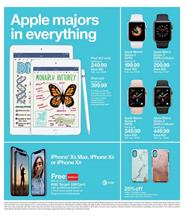 Shop electronic range of the latest Target Ad. Discover the possibilities to save on a new Smart LED TV, Chromebooks, video games, and Apple products. If you have been in search for a replacement of your TV, Target Ad Aug 18 – 24 is your place to find one. Philips, LG, element and Vizio TVs are on sale. Moreover, you get accessories on the same page. Buy all Chromebooks for a lower price with Target Weekly Ad today. The deals should currently be valid at the moment. Acer and HP laptops can be seen on pg 10. Buy Acer Chromebook 15-15.6″ for only $169.99. Target smartwatch range is that of the Apple's on pg 11. Tons of things can be handled with Apple smartwatch products. First of all, it has GPS and you can answer calls with this device. You can also listen to podcasts. However, I think the most important feature of such a wearable device is being able to track your activities like running. Also, it can monitor your heart rate. This is important because jogging or running activities are demanding sports when you need to know what heart rate you start to burn fat. There are also perks of owning one of these Target smartwatch variety from the weekly ad. One of the best things is that you can wear them in a movie theatre and still stay quiet. If you are a busy person with a lot of communication required for your job, these wearable devices are designed to make your life easier in such places. Least of all, it's a watch, you will know the time and it looks cool. It can even order a pizza!
Buy these products from the Target Weekly Ad Apple category:
Subscribe to the free newsletter to get emails and notifications about Target and other weekly ads.