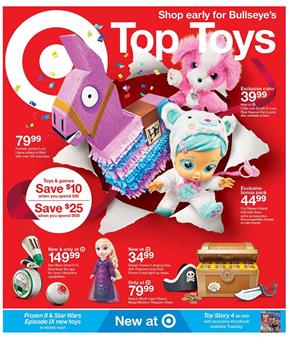 Shop new, exclusive, and early top toys of Target. You can also see the Target top toys list here. Discovery Toys are enjoyable items of all toy categories. Ryan's world Target exclusive mega mystery treasure chest is one of them and its price will be $79.99 next week at Target. Toy Story 4 Blu-Ray is also one of the things to find in Target Ad Oct 6 – 12. Most toys are new and only available at Target. One of the favorite toys of mine is Marvel Avengers Titan Hero series as I probably previously mentioned. In the pack, you can find Hulk, War Machine, Iron Man, Nebula, Captain, Rocket, Thor, and Black Widow. They are in the suits which they were wearing for time travel in the latest Avengers movie. T-Rex toys are also popular nowadays. There are two coupons that will be $10 and $25 off discounts for a certain amount of purchases. Top Toys are browsable and shoppable on pg 1-5.
Target Exclusive toys from next week's ad:
Some products are Target.com exclusives. Visit pg 10 where you can find outdoor toys and playsets. KidKraft montauk wooden swing set is available on Target.com only. Save $250 on that product. Find hoverboard, Razor Power Core electric scooter, and more.
Target Star Wars and Disney Frozen II Toys
Pop culture has a really important impact on toy production. The most important and up-to-date examples of this phonemenon are two movies of Disney that will be coming in this year. Disney Frozen II and Star Wars The Rise of the Skywalker are at Target with new toys. Both movies have exclusive and top toys on this Target Ad. To see more of Target Top Toys weekly ad, I think one of the best ways is to browse this catalog.
Top toys and exclusives from Disney Movie toys:
Star Wars:
Also, see Target Halloween sale consisting of costumes, spooky items, candies, and $5 discount when you spend $30. You can also encounter coupons. Subscribe to Target Weekly Ad and get more deals like top toys.