Next week, you'll be able to shop another back to school sale by Target. Currently, Target Weekly Ad Jul 21 – 27 is valid and browsable. Getting everything for school at once is almost impossible. The needs can change after your instructor introduces the lessons. This is true for high school and university. After a couple of classes, you will realize you need something more or you didn't need the thing you bought in the first place. For that reason, weekly ads have more than one back to school sales depending on the demand. It seems like Crayola has done a great job so that next week's Target Ad has more Crayola deals.
Target Weekly Ad Preview Deals Jul 28 products are household cleaners. Also, you can earn free gift cards for some purchases. Next week, when you spend $50 on household essentials on pg 2 of this ad, you will get $15 Target free gift card. Another free $5 gift card will be yours when you buy 4 hair care products on pg 3. Check out some of next week's free gift card deals:
Target BOGO deals are available for some school products. Buy your needs at once with these BOGOs to save. BOGO 50% off all paper mate writing supplies next week. 2-week event school clothing sale is also one of the promotional deals of the Target Weekly Ad Jul 28 – Aug 3. Home products, electronics, video game sale, grocery, personal care, baby care, coupon savings, and more will also be in the ad.
Target Lion King and Disney Sale Jul 21 – 27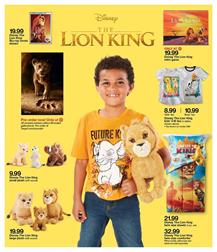 You can pre-order 4K limited-edition of Lion King at Target now. It's only at Target. Since the movie recently came out, fans at Target might like these products. You can buy Disney The Lion King retro game, clothing products, bedroom, and toys of the movie. This is one of the interesting parts of the latest Target Weekly Ad which is still valid. Also, TVs are on sale. TCL, element, LG big screen Led TVs will be a carthweel offer. Save an extra 10% with cartwheel deal on pg 16. Get a $200 gift card for buying Samsung phones. Nintendo Switch Lite will be available in September. The price will be $199.99 at Target.
Lion King Bedroom Products: