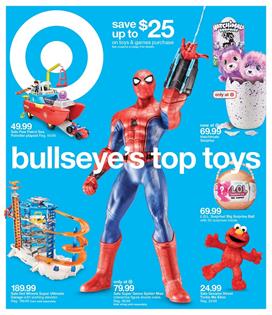 Browse new products from Target Weekly Ad Toy Sale October 8 – 14 2017 featuring favorite characters like Spider-Man and Meccano Erector M.A.X interactive toy with AI and many more toys based on popular superhero characters. This toy sale will be on pg 1-6. Coupons for the fun products. Shop with the coupons on pg 3. 20% off My Little Pony: The Movie toys. Discover a great range of "only at Target" products. This week, you can save up to $25 on toys and games with those coupons.
Letting your kids play with toys will keep them busy and quiet for a long time. But this has some disadvantages regarding their creativity and improvement of intelligence. They could easily be spoiled eventually you will end up with a monster. Your kids can change. Instead of buying them multiple toys, reward them after their success in homeworks or exams. Regularly check out their original works, paintings, what they write on dairy. Grow them up cleverly and they will take part a role in the community in future.
My Little Pony toys and other collectables are on pg 4. Exclusive toys can be found there. Check out pg 4-5 for special products of Target Ad for the whole week.
Top toys are available on pg 5.