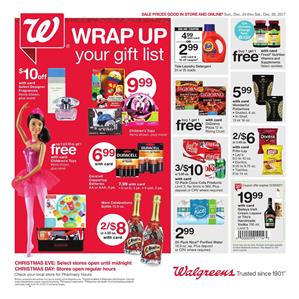 There was a part of Walgreens that focused on Christmas in the previous week. The crew had a great job there. This week similarly, Christmas gifts are available on the Walgreens Ad. It can change your understanding of Christmas shopping. Walgreens is predominantly a pharmacy store but these products make it so fun. Children's Toys, designer fragrances, Mars Celebrations bottle are among the deals you will find.
The acceptance by customers was given in my opinion. You can identify with this sale. Participating products are just amazing. This silence right now, is just about the upcoming deals by all stores. They will have really big ads in the January. We are now at the end of the year.
Mix and match sale is available at Walgreens:
The snacks got promoted. The cover page contains some good snack offers. Visit pg 3 for products like Red Bull Energy drinks, 4-pack monster energy drink, Naked juice smoothie and many more beverage and snacks.
Toys and home products on pg 5. You will find Wphoto deals for Christmas. They have a general product range after 24 December. Don't miss out pharmacy, beauty and grocery products from Walgreens Ad.