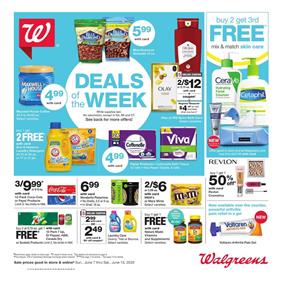 Mix and match skincare sale is on the landing page of Walgreens today. Buy 2 Get 3rd Free with that mix & match sale. CeraVe, No7, Neutrogena products are featured in this mix & match sale. Shop online to reduce your contact with people as much as possible. 20% off all contact lenses. That's a deal going for some time now. Also, photo deals, virtual Walgreens services, and other services are being promoted. As far as the Walgreens Ad for next week is concerned, online coupons and deals of that week are very important. They highlighted products of the essential needs for a week. Buy paper products of Cottonelle and Viva for $4.99. Online coupon on Olay or Old Spice bath care is another good deal on the first page. The skincare deal is also available on this first page.
Shop the deals of sun protection, too. Summer is here. Protect your skin from the exposure. If you like to sunbathe in your garden and have really sensitive skin, you might need some of these products. They will be BOGO 50% off next week. Snacks like chips and refreshing drinks are also on sale.
Walgreens weekly ad deals Jun 7 – 13 are groceries, breakfast food, ready dinner meals, cereals on pg 4-5. Find the good deals on snacks in it. Shop summer basics like decoration for your backyard, outdoor toys, and learn about safely shopping in stores on pg 8. $15 Visa reward card is yours when you spend $50 on P&G products. Check out nutritional supplements. Vitamins are on sale. BOGOs on beauty items are in the ad. More coupon savings can be seen at the end of it as well.
Walgreens Weekly Ad Deals Jun 7 – 13:
Personal care, health care, and sun protection deals: