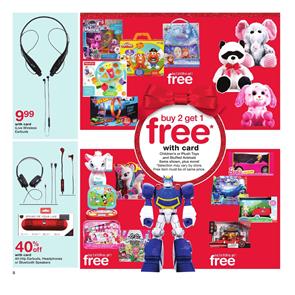 Holiday offers on Walgreens services and products consisting of Wphoto products, toys, electronics including earphones, gifts like plush toys can be seen on pg 8 – 17. This wide range of products will be valid on Nov 26 – Dec 2. Find your photo deals on pg 8. All photo cards and premium stationery prices will be 40% off this week. Custom floating frames, canvas prints and wood panels are 30% off after Sunday. Also see Infinitive 32GB memory stick, Energizer batteries, Duracell hearing aid batteries and more products on that page.
This week you will be able to get 1 free plush toys or stuffed animals shown on pg 9. Buy 2 Get 1 free of these items. Browse the discounts on more toys on pg 10. It includes Transformers characters, Barbie dolls, Play-Doh, Pony Movie and more toys. iLive wireless earbuds will cost you only $9.99 at Walgreens. 40% off iHip earbuds, headphones or Bluetooth speakers.
Hallmark gift wraps and BOGO 50% off holiday ornaments are going to be on pg 14. See holiday outdoor décor and All Living solutions holiday light with the same deal. Walgreens offers "Buy 2 Get 3rd Free" mix and match holiday gift wrapping supplies.
Holiday gifts: