Cyber Week sale is still going on site-wide on Walgreens' official page. Get 30% off until December 1st. You can check out all items, 50% off gifts, 25% off all contacts and Buy 2 Get 3rd Free skin care.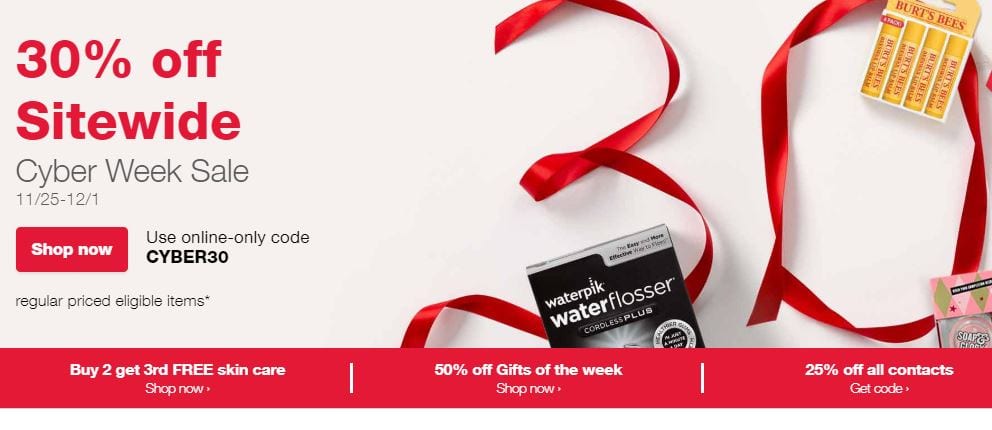 Walgreens Weekly Ad Pharmacy Sale Dec 2 – 8
A part of health care section of Walgreens Ad, in which $27 coupon savings, BOGO Free deals and other coupons are available, is on pg 26. Health products of the latest Walgreens Ad cover flu medicines, sleeping pills, smoking cessation, pain and allergy relievers and like-class products in general. Vitamins and supplements are usually cheaper when you follow the ads. Follow our Facebook page for the instant news whenever a new post is posted. You can alternatively subscribe to this page or follow on Twitter. The difference between an official page of Walgreens and browsing the ad here is that we talk about the deals. Sometimes we review the products, too. Today, we can see a preview of the Walgreens Ad Dec 2 – 8 which covers BOGO 50% off + $2 off coupon on Aleve or Bayer pain relief. Coupon savings and online coupons on Alka-Seltzer, Cold, flu reliever of Afrin, Alka-Seltzer, Coricidin, Hydrasense, and another one on Dr Scholl's products.
Get $3 reward wyb 2 or more participating products in health care products that are available on pg 28. Even more coupon savings are there, too. BOGO Free Nature Made vitamins and supplements next week at Walgreens. You can find seriously a good sale on pg 30-31 of the ad.
Walgreens Health Gifts
Find health products as Christmas gifts on Walgreens Ad. Price drops, BOGO deals, and coupon savings are availble next week. Holiday gifts can be health products like blood pressure monitors, or a reader glasses that are both available on pg 32.