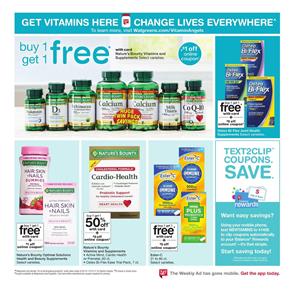 Bogo Free Nature's Bounty vitamins and supplements are bogo free deal this week. You should see other Nature's Bounty products at Walgreens Ad on pg 10. Ester-C, Osteo Bi-Flex, Text2Clip coupons are all on this page. Centrum or Caltrate vitamins will cost only $9.99 for you. Vitamins and supplements One A Day, Citracal or Flintstones will be bogo 50% off deals till the end of Aug 5. Get bonus points when you shop for products on pg 11-12. Nature Made B12, Vitamin C, Fish Oil, Iron, and similar products of Finest are bogo free. To see other bogo free vitamins, check out pg 11-12. Besides you will be supporting a child when you purchase a vitamin pack. Cosamin joint health supplements 90-108 ct. is another bogo free deal !
L'il Critters, Emergen-C, Natrol Vitamins, One A Day and more products are viewable on pg 13. Nature's Truth essential oils is one of the top deals from this ad. You can get these products for 2/$10. Plus $1 off coupon will be available this week. Purchase Enzymatic or Alive! vitamins and supplements for only $9.99 at Walgreens.
Check out pg 14 for feminine care products, protein rich nutrition, optical products and 25% off contact lenses. Icy hot, Zantac, Dulcolax and more products will be bogo 50% off ! Allergy relief, Allegra 24-hr allery relief, Zzzquil or Unisom pain relief and many more products and deals are featured on this page.
Check deals of acid reducer, exam gloves, pain relief or sleep aids, allergy relief meds and many more items that are viewable on pg 15. Pain relief of Thermacare, Advil are 2/$12 this week at Walgreens. Start shopping for these items on Sunday which is the time these will be valid for one week.
There are many more deals like Bogo 50% off viewable on pg 15. Coupon deals and bonus rewards for the products like Feminine care including tampons and tests. Walgreens offers new mix and match (Buy 2 Get 3rd Free) deal for personal care items. Browse these products on pg 17 which contains dental care, and hair products. Crest 3D white whitestrips will be $10 less with the coupon this week. For more pharmacy and beauty products please go to the preview of this ad. You will see detailed information about each product viewable on Walgreens Weekly Ad previews.