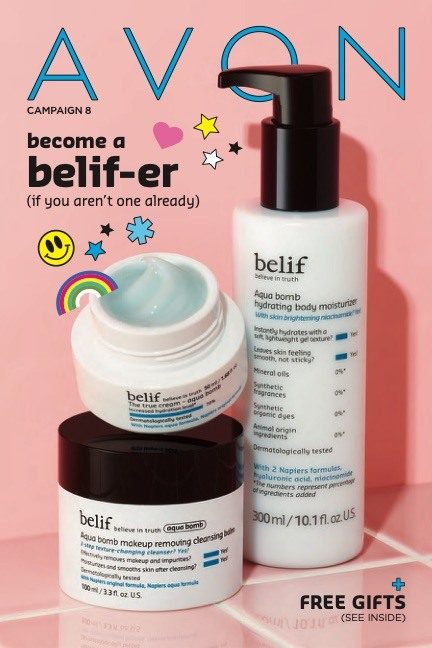 Share & Subscribe
( Be first to rate this Avon Catalog )
The eighth sales and promotional campaign period for beauty and personal care company Avon in the year 2023 offers many amazing deals that you won't want to miss. If you purchase makeup from pages 42 to 71, Big and False Lash Volume Mascara is available for only $3.99 with every purchase of $5.00 in the makeup sale! Just a friendly reminder that useable items stretch past page 71, so don't miss out on even more awesome deals!
Don't miss another budget-friendly opportunity – if you buy one of our eye skincare products, you get another one for merely FIVE bucks (pages 83-87)! Want an even better deal? Buy either the Ultimate Regimen Set or Platinum Regimen Set, and snag free full-size Ultimate or Platinum Cream Cleanser – they're located at pages 88 to 89!
Last but not least, buy any two items in this catalog between page 100 through 101 and get them both for pocket change: EIGHT American dollars total! Don't wait, act now as these deals could all run dry soon may never come back again!
It's time to become a full-blown belif-er (if you aren't one already)! Belif is all about authenticity for your skin. Steeped in classical apothecary traditions along with modern Korean skin science, the brand stands for honesty, systematic edits and transparency – just what your skin truly deserves. The newest hydration formulas are here to bring continuous moisture straight to your pores! And no harm if you choose to stock up on them come to this Avon Campaign 8 2023, because extra goodies await: Any skin care purchase of $30 or more will earn you two complimentary minis – a belif moisturizing bomb (.33 fl. oz.) and a jelly cleanser (0.101 fl. oz.). Just 3 steps transform into 1 powerful formula that invites its liquid powers to purify the everyday dirt and grime still laden on the skin – balm be gone! Cream power strikes next to slump any leftover debris away, leaving behind fragrant oil properties for softly glowing radiant perfection.
Step up your cleansing routine with Avon Campaign 8's Aqua Bomb Makeup Removing Cleansing Balm! Got dryness, dullness or uneven texture? This balm gently removes all of your makeup in one delicious step--think smooth and refreshing, like sherbet. Infused with naturally derived lotus flowers and marshmallow root powder, herbs that work their magic to help boost up not only moisture but also the radiance of your skin. Fear not oily residue, we have you well taken care of!