Check out Publix Ad for the new bogo deals for pantry, snacks and your favorite sauces.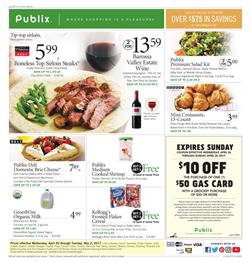 This week again, pasta and classic pasta sauces are bogo deals. Stock up these products for saving more money from the future shopping sessions of yours. Don't mis sout anything from the latest Publix Ad online. You can follow on facebook for the instant updates. Publix provides you a great range of products like coffee, syrup, chicken, tomatoes of top brands.
Some of the good deals are not bogo free on pg 10. For example buy GreenWise organic salad dressing for 2/$6 ! Pace Salsa, Picante Sauce or Dip are in the list of deals you can find on the pg 10. Don't miss out new sales of products like Del Monte tomatoes.
Bogo Free Deals;
To find coke, Sprite, beer, crackers and many more products with bogo free deals check out pg 11. Don't miss out latest sale of Publix and save more.