Read the review about the products of CVS Weekly Ad Preview Aug 9. Click on the ad to see full content ! This week the deal is "back to beauty" and health care products.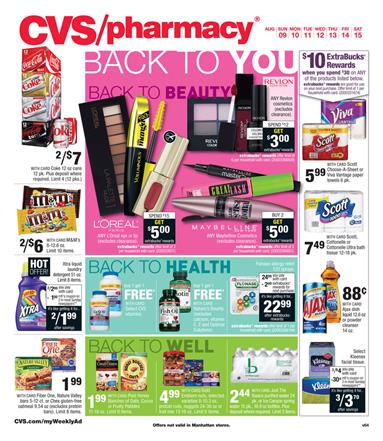 Majority offers of CVS weekly ad is about the pharmacy and health. Especially beauty products are featured on this ad.
Healthy snacks of CVS is a popular range of products. You may find organic nuts, mixed nuts, breakfast biscuits etc. on pg 2. Check out more products like these. Cheerios cereals that are #1 for only $1.88 this week ! Extrabucks Rewards $3 when you spend $10 on the products of V8 juice, Pepperidge farm goldfish, Campbell's chicken noodle or tomato soup which also be seen on pg 2.
SNACKS AND CONFECTIONERY
See new confectionery products by CVS on the new ad. Great range of products including snickers, gold emblem bagged candy, twizzlers, Mentos and many more are featured on this range.
HOUSEHOLD supplies including batteries, Tide chemical cleaner, bleach, clean-up formula, laundry detergent packs, paper towels PG 4
BACK TO SCHOOL DAILY DEALS. Get all your supplies from CVS weekly ad range. Check out daily deal offers of the stationery PG 5
BEAUTY PRODUCTS including makeup products, mascara, cosmetics, skincare, PG 6&7
HAIR CARE and shaving products like razors, shave gels can be seen ON PG 8-9
VITAMIN PILLS biotics, smoking aids, allergy relief, CVS stop smoking, NyQuil and more pharmacy products.
Also see Meijer, Walgreens, Walmart, Target weekly ads in Sundays.