Share & Subscribe
( Be first to rate this CVS Weekly Ad )
Save with Epic Beauty Event this week again. CVS Weekly Ad Sep 6 - 12 have been published online today. Receive a $10 gift card for your $25 purchase of the beauty products or personal care that are in the epic beauty event. The cover page of the new CVS Ad offers hair deals. Shampoos, conditioners, hair colors, and more items including the BOGOs. The first page of the ad is interesting enough to make one browse the in-ad content and the deals. If you like BOGOs of supplements, the ad is a really good one for you. It's frequent to see BOGO free vitamin deals on a CVS Weekly Ad. The ad also covers some household supplies.
CVS Household Deals and More Beauty Products
Go to pg 2 for a nice Extrabucks rewards deal in the household range. Products like laundry detergent and some basics of a house will get you a $10 Extrabucks if you spend $30 on them. Baby care products are also available. Buy Pampers jumbo 16-32 ct., Easy Ups training underwear for $9.99 at CVS stores.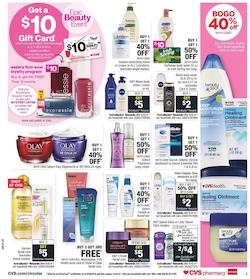 You can still shop some school supplies at lower costs. Snacks, groceries, candy bars, plenty of beauty items and more are also available on the ad. CVS big hair deals can be viewed on pg 8. Join carepass to get $10 promo reward. Zyrtec deals are also in the ad. Notice the coupons by CVS or manufacturers in the ad. CVS Weekly Ad Sep 6 - 12 is one of the biggest pharmacy ads right now.
CVS Circular Pharmacy Sale Sep 6 - 12
Browse the CVS Ad Preview for the deals of the health care products and the supplements. Many of them are BOGO deals. You can save on all of them if they appear in the CVS circular. This week, pain relievers are going to be on sale. As Halloween is coming, the deals may boost up and Black Friday will be sooner when we are in October shopping some nice decoration items. You can already see some snacks with the pumpkin flavors. Subscribe to the CVS sales ad for more deals next week. These deals will be in your inbox when we have your email.
Plenty of more coupons and rewards can be seen on this section of the CVS Pharmacy ad. Shop personal care products like oral care items from popular brands including Colgate and Sensodyne. If you have really sensitive teeth, Sensodyne is your temporary solution but you have to go to the dentist for sure.
CVS Weekly Ad Sep 6 - 12 has also grocery, snacks, candies, and more deals. See all of them in the ad content.