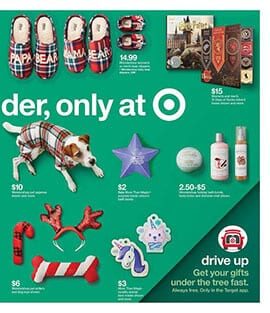 This weekend, there is a chance to get a discount of 10% Target gift cards. Merry Christmas. You can browse a new range of gift cards consisting of cards with retro and holiday designs. The cards have a valid date. Some cards are online-only offers. For example, a snowman sweaters gift card is ready for use starting on 12/9, and it's an online-only offer on target.com. You can buy one of those with a value of up to $1000. Get it in mail, e-mail or via mobile. Gift cards are one of the most convenient inventions and tools of the online shopping world. Can't decide on what to buy? Go for it. Target is one of the best retailers offering such cards for Christmas and occasions like that. Check out all of the Target gift cards for Christmas here and save 10% off Target gift cards. 
Target also offers beauty sale today. Make your weekend shopping more profitable with the use of online tools in this store. When you spend $30 on beauty & personal care products you can get a free $10 Target Gift Card. Similar deals are also usually appearing on the Target Weekly Ads. Get a Red Card to save an extra 5% off everything at Target. Holideals 10% off Target gift cards deal is also one of the promoted deals on the Target Ad Dec 8 – 14.
Browse the ad for a luggage deal. Instead of wasting your time locally, enjoy the world globally and do it saving on the necessary expenses. Luggage is one of the essentials you need to shop at a store like this. Browse the weekly ad for $60 & $75 price of American Tourister or SWISSGEAR 20″ luggage.
Find gifts like Vinyl discs, retro music, gift cards and headsets on this ad. Games, TVs, consoles, and more are also in the ad. Moreover, you can get a $40 off when you get a Red Card. Browse these Christmas gifts and decoration:
Christmas trees, decoration, and more:
More, much more than this in the Target Ad Dec 8 – 14. Subscribe to the newsletter to get free emails about such deals.