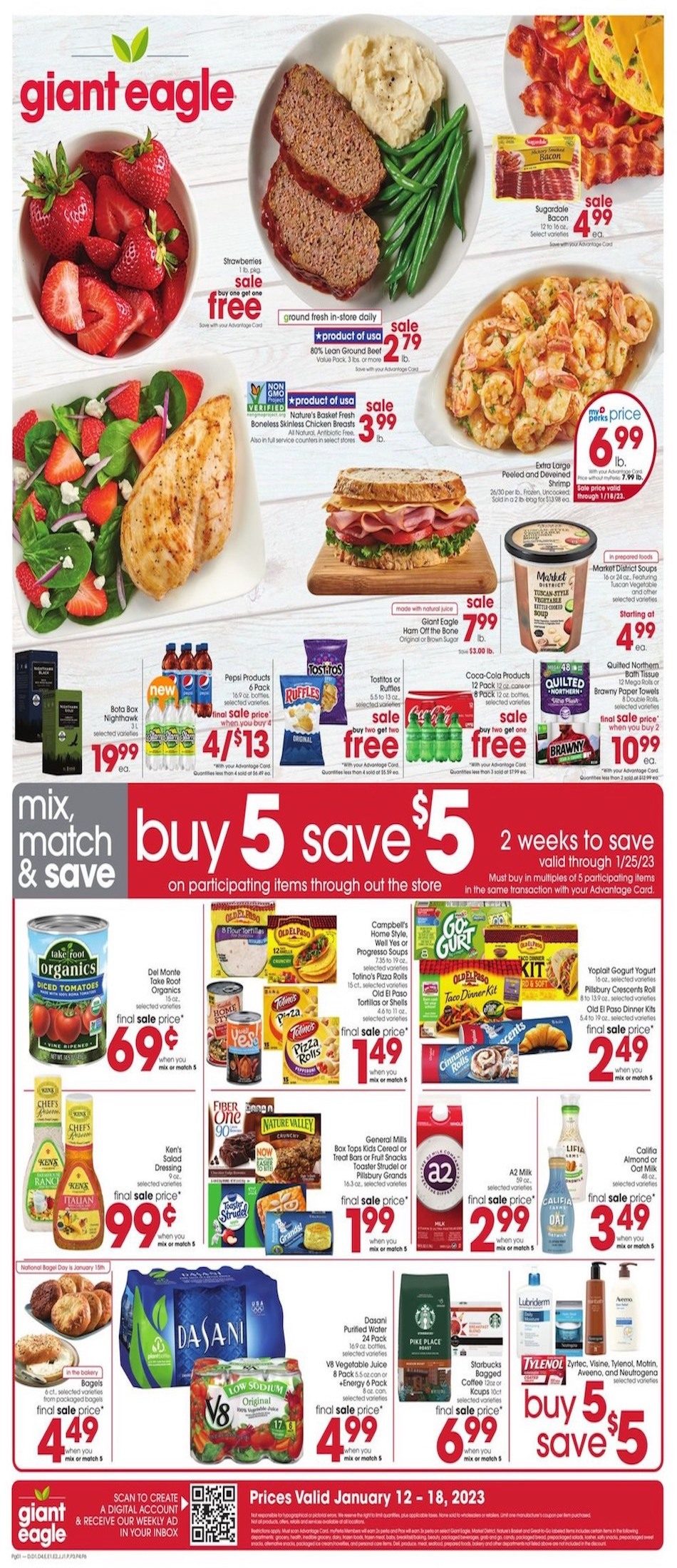 Share & Subscribe
( Be first to rate this Giant Eagle Ad )
Giant Eagle's Ad Sale, which runs from January 11 - 17, 2023, has a wide variety of departments to choose from.
The produce department offers great deals on fresh fruits and vegetables. You'll be able to find all the staples you need for your kitchen at prices that are lower than usual.
The dairy department has deals on milk and cheese products like butter, sour cream, and half & half. This is a great opportunity to stock up on your favorite brands of milk or try some new ones!
The bakery department offers breads, muffins, and other baked goods at an affordable price. You'll also find cake mixes and frostings at a discounted price during the ad sale.
The frozen food section has ice cream sandwiches as well as frozen meals at a great price! There are plenty of options here so everyone in the family can get excited about trying something new!
Beverages include juice boxes as well as soda varieties like Coca-Cola products like Sprite or Fanta Orange; there's even a deal on iced coffee drinks too! If you're looking for something cold but not necessarily alcoholic then this section then come check out their selection of juices, sodas, iced coffee drinks and more! With a selection of sweet and carbonated beverages, this cooler is the perfect place to grab a refreshing drink.
We found the Giant Eagle Ad Sale to be a great opportunity to stock up on all the things we love and need, including produce, dairy, bakery, frozen, beverages, pantry, baby, beauty & personal care, candy, deli, floral, health & nutrition, household supplies and meat. But that's not all! You can also buy some prepared foods and seafood snacks.
This is the perfect time to stock up on all of your favorite groceries and household items at a fraction of the cost. There are deals on everything from produce to snacks, so you can grab that box of cereal and fresh fruit you've been eyeing while also stocking up on your favorite frozen meals. And if you need to restock your beauty products or personal care items, now's a great time to do it—you can save up to 50% off!
Featured Items of the Week
Giant Eagle is a great place to shop, and their Ad Sale is one of the best times to stock up on all your favorite products!
I love the produce section. They have a great selection of fresh fruits and veggies, as well as organic options if you're looking for something that's been grown without pesticides or chemicals. And if you're looking for something specific, you can always ask an employee who works in produce — they will be helpful!
The dairy section has everything from milk to butter to cheese. Plus they sell eggs (organic if you want 'em), yogurt, and cottage cheese too!
The bakery department has so many delicious things it'll make your head spin: cookies and cakes galore, muffins and scones too. There's even fresh bread if you need some quick snacks for lunch or dinner tonight.
The frozen section has everything from frozen pizzas to ice cream cones (yes please). Plus there are tons of different kinds of frozen vegetables so you can have healthy meals no matter what time of year it is (or whether or not there's any fresh produce available).