Kroger Ad Apr 13 2016 outdoor furniture was featured in the latest page of the ad.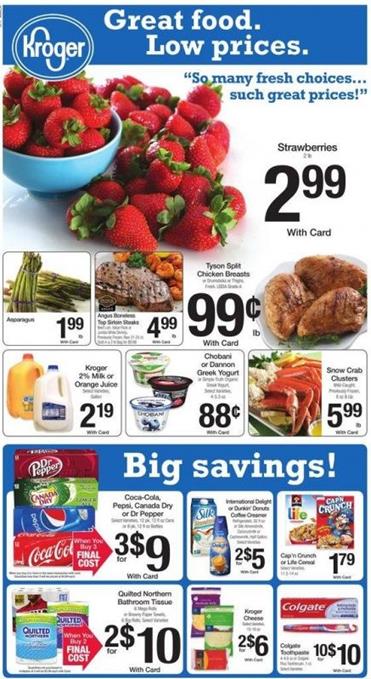 If you like entertainment under the sun you would probably be fan of Kroger ad this week. Beach towel, garden decor and even motor oil are the featured deals of this ad. The main work of the ad has been focusing on the weekly food products as usual. Big Savings on the ad are:
FRESH PRODUCTS on sale with Kroger Weekly Ad will make you more demanding. Appetizing fresh fruits and healthy vegetables are red tomatoes on vine, bell peppers and leaf lettuce. Besides lowered price range adds value to this sale. ORGANIC products like bananas, sweet mini peppers and watermelon can also be found in the Kroger Ad.
NATURAL food selection of the Kroger consisting of organic broth and organic milk are on sale on pg 2. Most people will start to think of outdoor fun in April. Sun will rise and fun will be yours with deals in every aisle ! Reset your garden using the deal on pg 3. Freshen the theme in your outdoor area with wicker set 5-pc priced only $269.99 with card.
There are products being promoted in the March-April-May and among these must-have sauces or packaged frozen food. Check this list from pg 3:
Powerade zero or powerade's regular drink of 32 fl oz was priced at $0.69. that's an awesome price for this drink. DAIRY products have been featured on pg 3. Get more information of details about the products by browsing this ad.
KROGER SPANISH FOOD
Previously this sale was referred in the ad. Today more product are promoted. You can take advice from Kroger for better steaks with the touch of Spanish tradition. On pg 4 you will get necessary products for it. Paprika, tapas plate, fresh ground chuck and red onions which can be considered the essential flavor of this cuisine are also on sale. Change the theme in your kitchen using the products like these:
KROGER OUTDOOR FURNITURE
Never pass a great deal about outdoor looks. That sets up all the fun you have in your garden. Believe me you will never regret for having these patio sets in your garden. Moreover gardening tools or decorative items are available at Kroger Ad's latest page. I don't think you'd feel free to ignore these deals. So even browsing only the latest page of this ad would be helpful alone.