Halloween costumes and cookware deals of Kroger Ad can be found on the final page of the latest ad. Don't miss out these awesome quality and great costumes. Spooky deals and gifts are available in the latest ad of this store. Check out the costumes: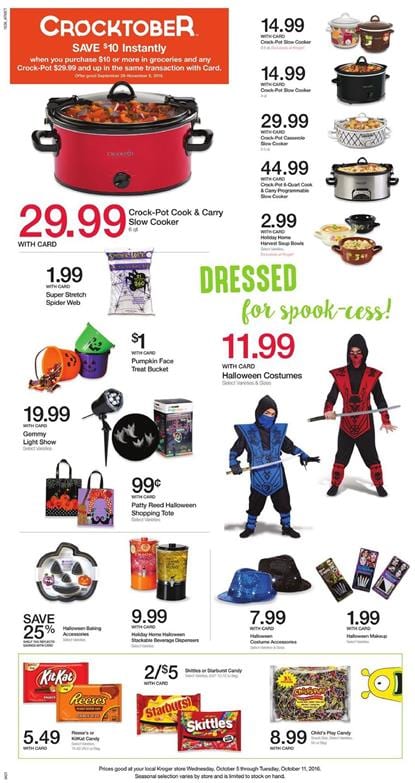 Ninja Halloween costumes for kids $11.99
Halloween costume accessories : hats, $7.99
Makeup items for Halloween $1.99
Beverage and candies are also featured in this ad. Halloween can never be thought of without children. They love candies so that they are inevitable in Halloween. Consdier browsing these products on pg 5.
Reese's or KitKat candy $5.49
Skittles or Starbust candy 2/$5
Child's play candy $8.99
Halloween baking accessories 25% off
Holiday Home Halloween stackable beverage dispensers $9.99
Crocktober sale of Kroger is currently valid. Don't miss out $10 saving instantly when you purchase $10 or more in groceries. Crock-pot cook & carry slow cooker can be purchased for only $29.99 at Kroger !
Crock-pot slow cooker $14.99
Crock-pot casserole slow cooker $29.99
Crock-pot 6-quart cook & carry programmable slow cooker $44.99
Holiday Home Harvest soup bowls $2.99
Decoration and accessories are available at Kroger stores. This week you can shop for products like shopping tote, light show and more accessories. To do the tricks kids will need these. Consider buying few of them at Kroger.